Fuse + Accelerating Auckland's Content Camp project to give young Kiwis creative experience
---
Date: October 01, 2014
Fuse, OMD's social media and content arm, together with Accelerating Aotearoa, have launched an experimental initiative to give young Aucklanders a taste of agency life and in return, give the agency an alternative view on using digital content to reach youth audiences.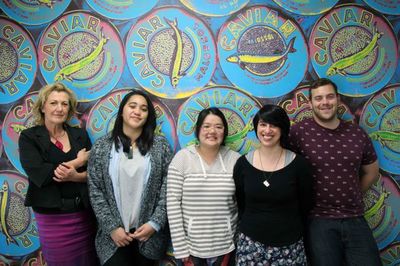 Called Content Camp, the four-week experiment involves four young adults from different walks of life and with a variety of digital skills joining the agency on a paid internship to work on real client briefs. Each week the team of four will receive a live client brief and will be tasked with coming up with new ways to tell the brand's story through multi-media content. The four volunteers bring a range of skills to the project ranging from 3D animation and stop motion films to illustration and graphic design.
The Content Camp team was put together by Accelerating Auckland, a programme aiming to bring together businesses and underserved communities to use digital technology to deliver a better outcome for Auckland.
Says Judy Speight, chief executive at programme leaders Accelerating Aotearoa: "When Fuse approached us about this project we thought it would be a fantastic way to give creative young talent an experience that would help kick start their careers. Working on some of New Zealand's largest brands will arm them with an experience that will be invaluable for their future."
Says Robin Wilson, general manager at Fuse: "To be involved in a project like this is quite humbling. Everyone at Fuse feels grateful to be able to help a group of young people get ahead, even in such a small way. However, it's not completely altruistic - we get a fresh take on creating content for brands and we're hoping the guys will teach us new tricks and think of things we haven't."
The Content Camp four volunteers are:
Darelle Teau: A student at the Open Polytechnic of NZ, Teau is studying for a Bachelor's Degree in Applied Science following two years studying graphic design at Yoobee School of Design. Teau's skills include digital graphics and physical product design and build.
Louise Lee: Louy (as she is known by most) graduated from the New Zealand School of Education with a diploma in 3D animation (Level 7) plus a Certificate of Early Childhood Education from the Manukau Institute of Technology. She is passionate about digital painting, sketching and story telling through animation.
Nicola Edwards: With a Diploma in Applied Animation from Auckland's Freelance Animation School, Edwards will bring her experience of illustrating children's books and animating the Little Ninja film project to Content Camp.
Nino Bianco: Bianco graduated from Natcoll with a Diploma in Computer Graphic Design. This, plus being previously employed as a technical support agent, makes Bianco the techie of the team.
(Pictured L-R: Judy Speight, Darelle Teau, Louise Lee, Nicola Edwards and Nino Bianco)
***This article was originally posted on CAMPAIGNBRIEFNZ, a blog site for advertising creatives in New Zealand.